As mentioned in previous blogs the reference application can use MongoDB.
For this a MongoDB database needs to be set up. You can do this in any number of ways:
Download the software on your server, start the mongod process and configure your application with the connection details
Get MongoDB as a SaaS service from MongoLab or other providers, followed by the same steps
If you decide to build your own database, you can do so by configuring everything manually or using scripts, however you can also choose to use MMS as a kind of SaaS solution for managing your MongoDB environment. This can be done on private clouds/networks using your own dedicated MMS solution, or in the public cloud.
The picture below shows such an environment: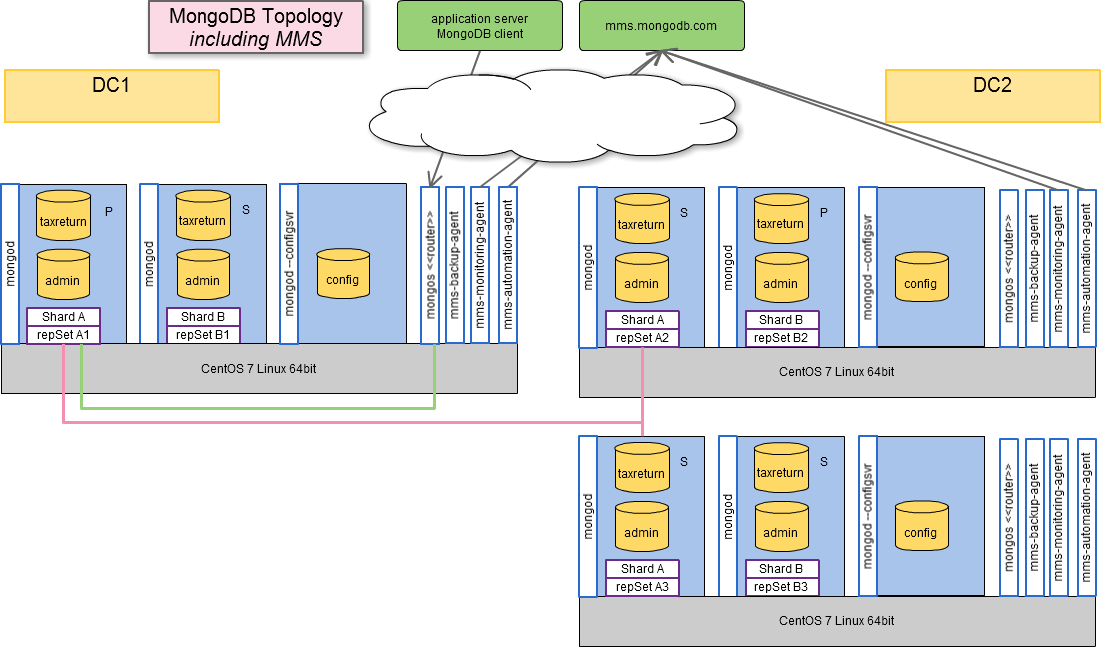 Using MMS to set up this complex topology is quite simple:
Start by installing the automation agents. These will then connect to the mms.mongodb.com environment using some shared secrets that have been configured for your account. This will make these agents appear on your account.
Then use the web interface of MMS to install monitor agents and/or backup agents and everything else that you need: standalone servers, sharded clusters etc.
The automation agents will automate all the deployment and installation tasks needed, such as:
downloading software of the desired version
upgrading versions of the agents and databases
configuring security
creating & changing clusters
Without MMS, I would have needed much more time to set up such a cluster. The alternative is to go SaaS all the way, where you don't care anymore about how and where it is installed. In that case MongoLab solutions or the MongoLab within Bluemix solution is a good choice as well.
For now I think that using MMS in combination with your own infrastructure is a very good choice. And using a private MMS would be even better from a security and trust/privacy point of view.